One of us! One of us! One of us!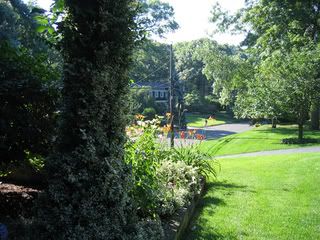 What some folks on my daily rounds o' the blogs are up to these days:


Chiieew!
, manifesting his excellent taste in televisual entertainment once again, is
loving Big Love
.


GenX
is squeezing my heart, real hard, with memories of the summer of 1994, a summer during college when Mr. Gleemonex and I left our sweltering Harlem sublet and
took the LIRR
out to the end of the line every weekend, spending lots of them
at GenX's house
listening to World of Morrissey over and over, drinking gin and tonics, and expanding our culinary horizons by leaps and bounds — often using produce from the very garden pictured in this astonishing cluster of photos (one of which you see at right).


Liberally Lean in the Land of Dairy Queen
, blogging from my hometown in the T.X., is just about
causing me to hemorrhage
.


Tina Ballerina
is bringin it every day with the incredibly rude, crude and astonishing.


Guinness 74
is admitting to a
lolcats addiction
. Now seriously, this is irredeemable, and I'm afraid I'm going to lose some of y'all by admitting it, but my homes G-74 (whose only flaw is that he's a Red Sox fan) stepped up and admitted it, so taking courage from this brave act, I'm gonna say it, here and now: I … I like (oh this is hard) … I like
I Can Has Cheezburger,
OK? It is bizarrely, intractably addictive. I don't check it every day, but when I go there, I stay there. The frickin lolcats suck me in! Goddammit.
Labels: cubejammin', demoralizing confessions, indefensible positions, Lookee what the Internets done brung me today, things that are great, unholy obsessions