Course, I left the entire shelf of Stephen King untouched.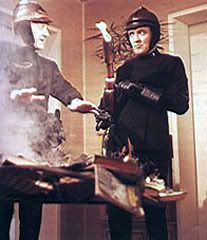 Spent the whole weekend — really, from the time we got up Saturday till about 8:00 last night, when we ate dinner crashed on the couch watching Entourage — making room for Kid Gleemonex in our house. This involved moving-level activity in every room but the kitchen, and was very productive and satisfying but Jesus H, was it a pain in the ass. Mr. Gleemonex was a champ, doing all the trips to Home Despot, measuring, planning, furniture disassembly/reassembly and heavy lifting, while I did tedious but necessary things like de-crapifying the giganto computer desk (Visa statements from 1998, anyone?) and vacuuming cobwebs off the baseboards.

One of the most satisfying chores, for me, was culling our well-overfilled Entire Wall o' Bookshelves of items we didn't need to have at the ready — crap books that will now live in a box in the garage. Besides dupes, financial advice books, pointless boring everlasting sci-fi and the like, here's what got the heave-ho:

John Updike: Hate you, hate you, haaaaate you, you misogynist old bastard. Had to read you for grad school, never will again.

William Faulkner: Sorry, man. Never got it, never will.

Melissa Bank's Girls' Guide to Hunting and Fishing: An ill-advised foray into chick lit. There's 90 minutes I'll never get back.

Ayn Rand: Please, bitch, get over yourself.

Sir Philip Sidney and Edmund Spenser: Britrock stars of the Renaissance though they both be, who'm I kidding, even pretending I'd settle in for an evening's read of these guys?

Sophie's Choice: Goddamn, what fantastic suck. Couldn't get past about 50 pages. Fuck you, Styron. Go hang out with your fellow penis-worshipper Updike.

Hemingway: Meh. Go back to impressing impressionable young men, sir.

CS Lewis's non-Narnia works: I am SO TIRED of the Christian apologists. You're out, CS.

Virginia Woolf, all of which was bought because of school requirements: I think I'm at the point in my life at which I can safely declare that
my feminist cred
does not depend on liking — or professing to like, or even publicly owning the work of — Virginia Fucking Woolf.
And now my bookshelves are filled only with good stuff, great stuff, awesomely bad stuff, old friends and reminders of strange dashes into fringe ideas, just as a good bookshelf ought to be ...
Labels: clean livin, they ain't takin the TEE-vee, things that are great