Heh, "foul pole."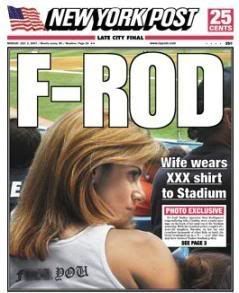 I suspect that there are more than a few people in America today who are hoping that Barry Bonds will take a tumble down a flight of stairs real soon, breaking his tibia in seventeen places and prematurely ending his illustrious baseball career, too bad so sad no HR record.
Now, though I myself am of mixed feelings about the Bar -- I am not among the ill-wishers above. I'm just saying, I bet there are more than a few out there.
These are the kinds of things I have the mental space to think about, while the Yankees punctuate long stretches of sucking the big wet one with occasional flashes of brilliance (see: last night's game).
Thanks to csr_reporting_is_my_life for the photo link ... klassy lady, that one.
Labels: beisbol a been berry berry good to me, that's what your mom said