Satan's garden mulch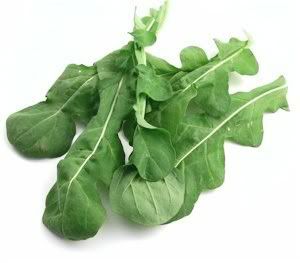 People.
Can someone please tell me what is the point of arugula? I am right this minute interrupting my lunch -- an otherwise quite good chef-type salad from the work cafe -- because it is made with arugula instead of normal lettuce (Romaine, iceberg, butter, red leaf, green leaf, what have you) and I had to ask you guys about this.
Arugula. Jesus. It's got that sort of waxy thing going, like spinach (you know how it creaks against your teeth?), but with a very -- I dunno, leafy overtone, like if you were to eat a handful of ficus leaves. Dusty, kind of limp ficus leaves. And it looks like a cross between spinach and dandelion greens.
It's like, they use arugula because Romaine is so passe, so Middle America or something -- it's purely snob shit, because nobody -- NOBODY -- loves them some arugula.
This is bullshit, man. And I won't stand for it.
[Hey, csr_reporting_is_my_life: d'you think this has something to do with Pride Week in the caf? You do remember the "Flaming" something-or-other from last year ... ]