You can feeel your heart slowin down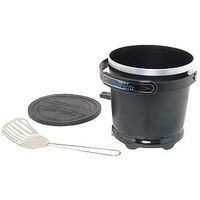 Courtesy of the marvelous growabrain, a link to the best thing ever: Deep-Fried Butter Balls. For reals. Listen to me here, Internets:
Deep
fried
balls
of butter.
It's a heart attack on a plate, a quadruple bypass waiting to happen. And it also sounds FUCKING DELICIOUS. Blame it on my Faulty Upbringing, if you want, but I'm game for pretty much anything deep-fried (remember on King of the Hill, when Dale and Boomhauer got a huge dang ol' deep-fryer, and set about deep-frying anything that wasn't nailed down, up to and including a whole, unopened can of beer? It's kind of like that, with me). In my day-to-day life, I don't eat a lot of the deep-fried, and that is one of the reasons I do not weigh four hundred pounds, but I probably could if I wanted (I am of hearty country stock, and I conclude from recent cholesterol and blood-pressure numbers that although someday, SOMETHING is going to take me to the big Smiths concert in the sky, it won't be the butter or the salt, yo).
Labels: cooking, Lookee what the Internets done brung me today, the horror ... the horror