He Who Walks Between the Rows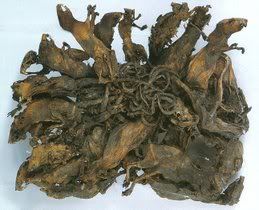 So, are you kidding me? Berto "Torture is Teh Kewl" Gonzalez — Alby "I Spy … Your Phone Calls!" G. — has resigned? Let's overlook the fact that all morning, the stupid sad-ass no-class disgusting mess Michael Vick's plea has been the top story on Yahoo, and take a moment to note this development.

This evil swine, who has done more (and more everlasting) damage to our Constitution and our country than any other single actor in the tragic, vile debacle known as the Bush Administration, has parachuted out of the plane that's flying straight into the goddamn mountain.

And what has our Dear Leader to say of the tidings?


"After months of unfair treatment that has created a harmful distraction at the Justice Department, Judge Gonzales decided to resign his position and I accept his decision," Bush said from Texas, where he is vacationing.

Un. Fair. Treatment.

Yes, the vacationing fucktard in shitboots masquerading as our President tsk-motherfucking-tsks us — the citizenry — about how badly poor little Al has been treated.

Please, God, if you're up there — let this ball-cancer-in-a-human-suit be the one to pull the rest of the ratking down with him. Amen.
Labels: Stab stab stab stabbity stab