Heckuva job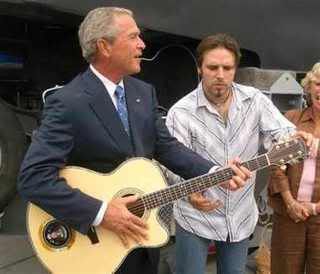 Second anniversary of Katrina making landfall today, you guys, and just for posterity, so this doesn't go down the memory hole, take a good hard look at the photo at right — THAT is what your president was doing the day this whole deadly clusterfuck started.

Can you for one minute imagine Bill Clinton yukking it up at some bullshit fundraiser halfway across the country, gladhanding his loyal supporters and ignoring a national disaster underway at the very same moment? Can you IMAGINE it?

And the evil pigfucker Bush has the nerve to tell us, "This town is better today than it was yesterday and it's going to be better tomorrow than it is today."

Fuck you very much, mister pResident. Fuck you and your "more blessed day in the future" horseshit. It is for you that I hope hell, literal hell like in the Bible you claim to love so much, exists and is waiting at the end of your life on earth.
Labels: sickened repugnance